Aion & Nature: Strawberry Tree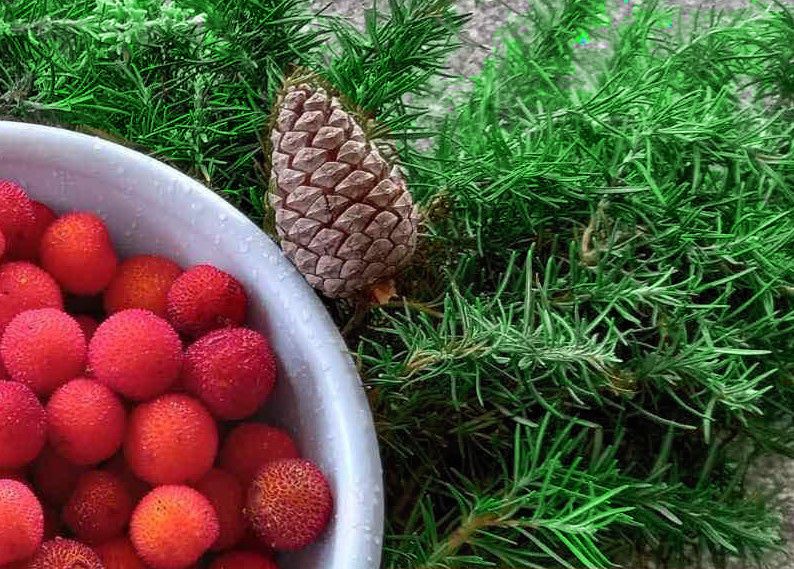 Noted for its remarkable flowers, fruit, leaves, and bark, Strawberry Tree (Lat. Arbutus unedo) is a charming, broadleaf evergreen shrub or small tree with four-season ornamental interest. The tree is well known for its fruit, which bear some resemblance to the strawberry - hence the common name "strawberry tree." However, it is not closely related to the Fragaria plant. It is native to the Mediterranean region and it is also found in western France and southwestern Ireland. It is naturally adapted to dry summer climates, and has become a very popular ornamental plant in California and the rest of the west coast of North America.
The showy red edible fruits fruits appear in winter and gradually ripen to yellow then red in twelve months. They are often in color when the new attractive flowers begin to bloom in fall. They are edible fresh, but are used mostly for jams, liequeurs, syrups and alcoholic beverages, such as the Portuguese medronho, a type of strong brandy. The jam is excellent for filling whole wheat tarts prepared and the whole fruit adds a little extra oomph to cakes, biscuits and sweet buns. The small red fruit of the strawberry tree is an important food source for forest animals during the winter. Birds, in particular, enjoy the fruit and enhance the propagation of the tree by spreading its seeds.
The name unedo is attributed to Pliny the Elder, who allegedly claimed that "unum tantum edo", meaning "I eat only one (fruit)". It is not known whether he meant that the fruit was so good or so uninteresting to eat only one. Arbutus unedo was notable in Classical Antiquity, when it was called Andrachne. The first evidence of its importation into northern European gardens was to 16th-century England from Ireland. By the 18th century, Arbutus unedo was known enough in English gardens for Batty Langley to make the bold and impractical suggestion that it might be used for hedges. In the United States, Thomas Jefferson lists the plant in his Monticello gardens in 1778.
In Italy, Mount Conero, whose name is derived from the Greek κόμαρος (komaròs), indicates the strawberry tree which is common on the slopes of the mountain. In Spain, the tree makes up part of the Coat of arms of Madrid: in the center of the city (Puerta del Sol) there is a statue of a bear eating the fruit of the Madroño tree. The fruit of the Madroño tree ferments on the tree if left to ripen, so some of the bears become drunk from eating the fruits.
Sources:
https://en.wikipedia.org/wiki/Arbutus_unedo
https://www.thespruce.com/strawberry-tree-arbutus-unedo-3269240
https://plants.ces.ncsu.edu/plants/arbutus-unedo/